Together, we gather to be present to the God who is already present to us.
However you are joining us, we encourage you to participate in the work of God today as He speaks and leads us. Wherever you are, God is already present and at work all around us. Let's join Him!
So from now on we regard no one from a worldly point of view. Though we once regarded Christ in this way, we do so no longer. Therefore, if anyone is in Christ, the new creation has come: The old has gone, the new is here! All this is from God, who reconciled us to himself through Christ and gave us the ministry of reconciliation: that God was reconciling the world to himself in Christ, not counting people's sins against them. And he has committed to us the message of reconciliation. We are therefore Christ's ambassadors, as though God were making his appeal through us. We implore you on Christ's behalf: Be reconciled to God. God made him who had no sin to be sin for us, so that in him we might become the righteousness of God.
2 Corinthians 5:16-21 NIV
God of justice, let us view others with eyes of reconciling love. In your mercy, continue to draw our hearts closer to yours. As we become more like you, may we extend your healing and forgiveness to the world you love. Amen.
We seek to share a common way of life – a shared journey into the life of Jesus. We do so through 3 discipleship pathways: Communion, Community, and Co-Mission. Learn more at restorationlex.com/pathways!

Communion
Use our passage this week (2 Corinthians 5:16-21) as a framework for prayer and meditation in the presence of God. Find a quiet place. Slowly read through these verses, and listen for the words or phrases that catch your attention. As you do, use them to pray! (Example: God, thank you for making me a new creation.)

Community
Talk it over with your Home Church (or a group of friends) this week. 1. What are some of the external measurements and worldly standards that we use to judge ourselves and others? 2. As we seek to be a reconciling community, how do we recognize the difference between unity (together in our difference) and uniformity (differences diminished and erased)?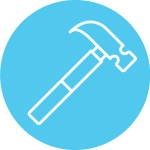 Co-Mission
One of the best examples of the work of reconciliation is already taking place at Restoration – a ministry called Be The Bridge. Be The Bridge exists to facilitate conversations about racism and injustice across ethnic and racial lines. If you're interested in being a part of future Be The Bridge groups or want to learn more, visit restorationlex.com/bethebridge