Together, we gather to be present to the God who is already present to us.
However you are joining us, we encourage you to participate in the work of God today as He speaks and leads us. Wherever you are, God is already present and at work all around us. Let's join Him!
Devote yourselves to prayer, being watchful and thankful. And pray for us, too, that God may open a door for our message, so that we may proclaim the mystery of Christ, for which I am in chains. Pray that I may proclaim it clearly, as I should. Be wise in the way you act toward outsiders; make the most of every opportunity. Let your conversation be always full of grace, seasoned with salt, so that you may know how to answer everyone.
Colossians 4:2-6 NIV
They ask me for just decisions and seem eager for God to come near them. 'Why have we fasted,' they say, 'and you have not seen it? Why have we humbled ourselves, and you have not noticed? "Yet on the day of your fasting, you do as you please and exploit all your workers. Your fasting ends in quarreling and strife, and in striking each other with wicked fists. You cannot fast as you do today and expect your voice to be heard on high. Is this the kind of fast I have chosen, only a day for people to humble themselves? Is it only for bowing one's head like a reed and for lying in sackcloth and ashes? Is that what you call a fast, a day acceptable to the Lord?
Isaiah 58:2b-5 NIV
Faithful God,
Thank you for your holy law, which served as a
Guide to both faithful and faithless generations.
Your promises, from the dawn of time, have all been
Revelations of grace that give meaning to our story.
Today, we worship freely,
Equal to one another through the grace you've revealed.
Teach us to walk in step with the Spirit, ever aware of
The ways you call us to lift up the humanity of others
And pursue your justice. In your name, Amen.
We seek to share a common way of life – a shared journey into the life of Jesus. We do so through 3 discipleship pathways: Communion, Community, and Co-Mission. Learn more at restorationlex.com/pathways!

Communion
In Colossians 4, Paul prays for God to "open a door," and encourages us to "make the most of every opportunity." Instead of being preachy or passive, we're encouraged to be patient in our interactions with our neighbors. This week, Read Colossians 4:2-6, and each day ask God for opportunities and open doors for conversations, encouragement, and service with co-workers and friends!

Community
Talk it over with your Home Church (or a group of friends) this week. 1. In seeking to live a life that stands apart, we must remember that integrity is not the same thing as perfection. How might we aspire to integrity with authenticity – and without a sense of moral superiority? 2. Selfish ambition (Philippians 2:3-4) is willing to cut corners and disregard relationships. How can we practice godly ambition in our jobs while rooting ourselves in love, not pride?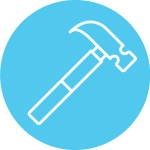 Co-Mission