Together, we gather to be present to the God who is already present to us.
However you are joining us, we encourage you to participate in the work of God today as He speaks and leads us. Wherever you are, God is already present and at work all around us. Let's join Him!
Then I looked and heard the voice of many angels, numbering thousands upon thousands, and ten thousand times ten thousand. They encircled the throne and the living creatures and the elders. In a loud voice they were saying:
"Worthy is the Lamb, who was slain,
to receive power and wealth and wisdom and strength
and honor and glory and praise!"
Then I heard every creature in heaven and on earth and under the earth and on the sea, and all that is in them, saying:
"To him who sits on the throne and to the Lamb
be praise and honor and glory and power,
for ever and ever!"
The four living creatures said, "Amen," and the elders fell down and worshiped.
Revelation 5:11-14 NIV
Worthy is the Lamb who was slain.
Worthy are you, our God, to receive power and wealth, wisdom and strength, honor and glory and praise. We praise your name forever. Amidst brokenness, bring the wholeness of your power. Amidst darkness, bring the light of your kingdom. In the perfection of your love, we worship you as our one true King. Amen.
We seek to share a common way of life – a shared journey into the life of Jesus. We do so through 3 discipleship pathways: Communion, Community, and Co-Mission. Learn more at restorationlex.com/pathways!

Communion
Revelation 5 is a chapter overflowing with worship. Worship is both our lived devotion to Jesus and the intentional acts of praise we offer in the presence of God. Is this music? It can be. But for others, it's time in the outdoors. Or serving those in need. Whatever it is for you, be intentional about spending time in worship this week. No agenda, just allowing your Spirit to encounter the beauty and goodness of God… and responding with praise!

Community
Talk it over with your Home Church (or a group of friends) this week. 1. Revelation is filled with symbolism, signs, and language that can be easily misused and misunderstood. What's been your experience with the book of Revelation? What preconceived ideas, hang-ups, and baggage do you bring to the conversation?  2. The Lamb (Jesus) is different from the other powers described in Revelation (beasts, dragons, oh my!). How does the power of the Lamb differ from the world's definition of power, and how can we see it as the model for our lives?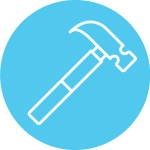 Co-Mission
People who follow the way of the Lamb should have noticeably different lives. This week, take the opportunity to love someone tangibly and sacrificially as a witness to our hope in the Lamb who was slain. What act of love kindness, generosity, or encouragement might God be calling you to bring to someone this week?