Together, we gather to be present to the God who is already present to us.
However you are joining us, we encourage you to participate in the work of God today as He speaks and leads us. Wherever you are, God is already present and at work all around us. Let's join Him!
Then I saw "a new heaven and a new earth," for the first heaven and the first earth had passed away, and there was no longer any sea. I saw the Holy City, the new Jerusalem, coming down out of heaven from God, prepared as a bride beautifully dressed for her husband. And I heard a loud voice from the throne saying, "Look! God's dwelling place is now among the people, and he will dwell with them. They will be his people, and God himself will be with them and be their God. 'He will wipe every tear from their eyes. There will be no more death' or mourning or crying or pain, for the old order of things has passed away." He who was seated on the throne said, "I am making everything new!" Then he said, "Write this down, for these words are trustworthy and true." He said to me: "It is done. I am the Alpha and the Omega, the Beginning and the End. To the thirsty I will give water without cost from the spring of the water of life.
Revelation 21:1-6 NIV
Our Father in heaven, who is making all things new, holy is your name.
Your kingdom come, your will be done, on earth as it is in heaven.
Come let your will and Word dwell among us.
Give us today our daily bread.
For we know that you give without cost to all who need.
And forgive us our debts, as we also have forgiven our debtors.
For the old order of things has passed away.
And lead us not into temptation, but deliver us from the evil one.
For you are the one who will wipe every tear from our eyes.
In your presence, death and mourning, crying and pain, are gone.
For Yours is the kingdom and the power and the glory forever.
You are the alpha and omega, beginning and end,
whose words are trustworthy and true. In your name we pray, amen.
We seek to share a common way of life – a shared journey into the life of Jesus. We do so through 3 discipleship pathways: Communion, Community, and Co-Mission. Learn more at restorationlex.com/pathways!

Communion
"In _________ as it is in heaven." Jesus teaches us to pray for and seek the realities of heaven here on earth. Where are you longing for heaven to breakthrough? Is it your job? Your marriage? A broken relationship? An inner struggle? This week, take time to intentionally pray for kingdom breakthrough in this area of your life. As a Church, let's pray boldly!

Community
Talk it over with your Home Church (or a group of friends) this week. 1. Revelation 21:1-6 gives a beautiful picture of where our story is headed in eternity. How is this picture different from the ideas of "heaven" you've carried through your life? 2. As you read our passage today (Revelation 21:1-6), what does this reveal about the heart of God for us? How, then, might this shape the way we live in the here and now?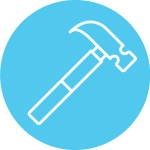 Co-Mission
In his book "Surprised By Hope,"  N.T. Wright says: "People who believe in the resurrection, in God making a whole new world in which everything will be set right at last, are unstoppably motivated to work for that new world in the present." Our lives reflect our future hope! This week, find an opportunity to repair, restore, and build up – a person, a situation, or maybe a need. How can your life point to our future hope this week?