Together, we gather to be present to the God who is already present to us.
However you are joining us, we encourage you to participate in the work of God today as He speaks and leads us. Wherever you are, God is already present and at work all around us. Let's join Him!
After this I looked, and there before me was a great multitude that no one could count, from every nation, tribe, people and language, standing before the throne and before the Lamb. They were wearing white robes and were holding palm branches in their hands. And they cried out in a loud voice: "Salvation belongs to our God, who sits on the throne, and to the Lamb."
All the angels were standing around the throne and around the elders and the four living creatures. They fell down on their faces before the throne and worshiped God, saying: "Amen! Praise and glory and wisdom and thanks and honor and power and strength be to our God for ever and ever. Amen!" Then one of the elders asked me, "These in white robes—who are they, and where did they come from?" I answered, "Sir, you know." And he said, "These are they who have come out of the great tribulation; they have washed their robes and made them white in the blood of the Lamb. Therefore, "they are before the throne of God and serve him day and night in his temple; and he who sits on the throne will shelter them with his presence. 'Never again will they hunger; never again will they thirst. The sun will not beat down on them,' nor any scorching heat. For the Lamb at the center of the throne will be their shepherd; 'he will lead them to springs of living water.'  'And God will wipe away every tear from their eyes.
Revelation 7:9-17 NIV
Faithful God,
You are both the Lamb and the Shepherd. You are both slain and risen.
You are both the victor and the comforter. In the knowledge of your wholeness, Aware that you hold the future,
We rest.
We join the great multitude today: Every nation, tribe, people, and language
Will worship the risen Lamb of God. As we follow you, Good Shepherd,
Lead us to your living water that never runs dry —
The springs of life that make all things new.
Amen.
We seek to share a common way of life – a shared journey into the life of Jesus. We do so through 3 discipleship pathways: Communion, Community, and Co-Mission. Learn more at restorationlex.com/pathways!

Communion
Revelation 7 speaks of an eternity with every tribe, nation, people, and tongue – a reality that we are to seek and respond to in the present. That future family is ours in the present! Spend some time this week learning about and prayer for (and with!) our global Christian family. Learn more here!

Community
Talk it over with your Home Church (or a group of friends) this week. 1. How aware are you of your own cultural and ethnic roots? How does your racial and cultural background impart your faith story?  2. Becoming a Church of every tribe, nation, people, and tongue can seem impossible in such a tribalistic world. What are some ground-level, accessible first steps we can take towards growing in diversity as a community?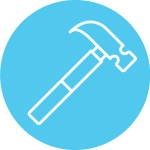 Co-Mission
This week, be bold: look for an opportunity offer kindness or build a relationship with someone outside your "tribe." Maybe that's someone of a different ethnicity, a different political party, or a different culture. Wanting to learn more? Join our summer Bible study, "Ethnicity, Justice, And the People Of God."
Sign up here!