Together, we gather to be present to the God who is already present to us.
However you are joining us, we encourage you to participate in the work of God today as He speaks and leads us. Wherever you are, God is already present and at work all around us. Let's join Him!
"Come, all you who are thirsty,
come to the waters;
and you who have no money,
come, buy and eat!
Come, buy wine and milk
without money and without cost.
Why spend money on what is not bread,
and your labor on what does not satisfy?
Listen, listen to me, and eat what is good,
and you will delight in the richest of fare.
 Give ear and come to me;
listen, that you may live.
I will make an everlasting
covenant with you,
my faithful love promised to David.
See, I have made him a
witness to the peoples,
a ruler and commander of the peoples.
Surely you will summon nations
you know not,
and nations you do not know will come running to you,
because of the Lord your God,
the Holy One of Israel,
for he has endowed you with splendor."
Seek the Lord while he may be found;
call on him while he is near.
Let the wicked forsake their ways
and the unrighteous their thoughts.
Let them turn to the Lord, and he will have mercy on them,
and to our God, for he will freely pardon.
"For my thoughts are not your thoughts,
neither are your ways my ways,"
declares the Lord.
"As the heavens are higher than the earth,
so are my ways higher than your ways
and my thoughts than your thoughts.
Isaiah 55:1-9 NIV
The Lord's Prayer teaches us the pray with abiding trust in the power, provision, and protection of God. As a community, let's pray this together:
"'Our Father in heaven,
hallowed be your name,
 your kingdom come,
your will be done,
on earth as it is in heaven.
 Give us today our daily bread.
And forgive us our debts,
as we also have forgiven our debtors.
And lead us not into temptation,
but deliver us from the evil one.
We seek to share a common way of life – a shared journey into the life of Jesus. We do so through 3 discipleship pathways: Communion, Community, and Co-Mission. Learn more at restorationlex.com/pathways!

Communion
In John 10:10, Jesus says "I came that they may have life and have it abundantly." The invitation into the life of Christ is an invitation into abundance. We turn to greed, fear, and hatred when we live as if God cannot be trusted – that ultimately, there's not enough to go around. This week, use John 10:10 as a guiding prayer. Ask the Spirit to reveal the ways in which scarcity has shaped the way you live – and offer these patterns to God.

Community
Talk it over with your Home Church (or a group of friends) this week. What are some of the ways that "the patterns of this world" unknowingly form us towards mindsets and postures of scarcity? How would having hearts formed in abundance change how we see God? Our relationships? Our finances? Our schedules? And finally, how much the good news of God's abundant, never-running-out, always pursuing grace change the way you see your sin – and how you bring it to God?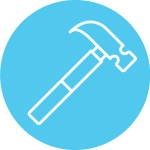 Co-Mission
Scarcity – the belief that there's not enough to go around – deeply forms so many of the "patterns of this world." We need to patterns – habits, beliefs, and mindsets that turn our hearts towards the abundance of God. One obvious way to live from abundance? Be generous. This week, whether with people in your Home Church or someone in your everyday live, show your trust in the abundance of God by being generous.