Together, we gather to be present to the God who is already present to us.
However you are joining us, we encourage you to participate in the work of God today as He speaks and leads us. Wherever you are, God is already present and at work all around us. Let's join Him!
Is anyone among you in trouble? Let them pray. Is anyone happy? Let them sing songs of praise. Is anyone among you sick? Let them call the elders of the church to pray over them and anoint them with oil in the name of the Lord. And the prayer offered in faith will make the sick person well; the Lord will raise them up. If they have sinned, they will be forgiven. Therefore confess your sins to each other and pray for each other so that you may be healed. The prayer of a righteous person is powerful and effective. Elijah was a human being, even as we are. He prayed earnestly that it would not rain, and it did not rain on the land for three and a half years. Again he prayed, and the heavens gave rain, and the earth produced its crops.
James 5:13-18 NIV
God of abundance, give us the boldness and sincerity to pray to you. May our prayers be filled with expectation and earnestness. As we live from a place of expectancy, shape our hearts. Bring us a deep awareness that you are present and at work. Cultivate healing and wholeness as we continue to turn our eyes to you. In your name, Amen.
MINISTRY PARTNER HIGHLIGHT
We seek to share a common way of life – a shared journey into the life of Jesus. We do so through 3 discipleship pathways: Communion, Community, and Co-Mission. Learn more at restorationlex.com/pathways!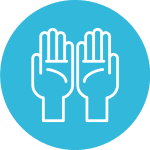 Communion:
Abide With Jesus
Karl Barth wrote: "To clasp the hands in prayer is the beginning of an uprising against the disorder of the world." James 5 calls us to meet the troubles and needs we face with prayer and expectation. This week, pray for the battles that those around you are facing. If there is a need for healing, boldly seek God's breakthrough for this person. And if you are in need, be vulnerable – ask for prayer!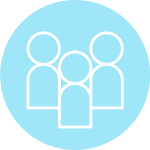 Community:
Be Present To One Another
Discuss with your Home Church or friends this week the following questions: 1. Depending on your background and experience, you may be uncomfortable with the idea of praying for physical healing. Talk about your experiences – or lack thereof – with seeking healing in prayer. 2. We pray for one another because God is with us and among us as a Church – not to get him to "show up." Life together in community changes when we live with an awareness of God's presence and work among us. How might a Home Church or community group be more intentional about living with this awareness?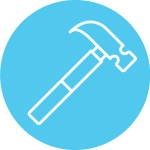 Co-Mission:
Join God's Restoring Work
Prayer walk your neighborhood. How, you ask? Simple. Take a stroll through your neighborhood and pray for your neighbors. Ask God for specific ways you might serve and love your neighbors. For more learning on prayer walking, check out this fantastic resource.