Together, we gather to be present to the God who is already present to us.
However you are joining us, we encourage you to participate in the work of God today as He speaks and leads us. Wherever you are, God is already present and at work all around us. Let's join Him!
Consider it pure joy, my brothers and sisters, whenever you face trials of many kinds, because you know that the testing of your faith produces perseverance. Let perseverance finish its work so that you may be mature and complete, not lacking anything. If any of you lacks wisdom, you should ask God, who gives generously to all without finding fault, and it will be given to you.
Who is wise and understanding among you? Let them show it by their good life, by deeds done in the humility that comes from wisdom. But if you harbor bitter envy and selfish ambition in your hearts, do not boast about it or deny the truth. Such "wisdom" does not come down from heaven but is earthly, unspiritual, demonic. For where you have envy and selfish ambition, there you find disorder and every evil practice. But the wisdom that comes from heaven is first of all pure; then peace-loving, considerate, submissive, full of mercy and good fruit, impartial and sincere. Peacemakers who sow in peace reap a harvest of righteousness.
James 1:2-5, 3:13-18 NIV
Spirit of God, lead us in every part of our lives.
Let every breath be filled with your goodness.
Let every word be filled with your love.
Let every deed be filled with your kindness.
Let every relationship have your faithfulness.
Let every decision have your peace.
Let every journey have your patience.
Let every confrontation have your self-control.
Let every thought have your gentleness.
Let every moment be flooded with your joy.
We trust that in all things, you are moving, God.
Open our ears to hear your voice speaking. Amen.
We seek to share a common way of life – a shared journey into the life of Jesus. We do so through 3 discipleship pathways: Communion, Community, and Co-Mission. Learn more at restorationlex.com/pathways!

Communion
At the end of the message, Justin asked 2 questions for us to ponder:
Who will benefit from the wisdom
of your story?
and…
Am I teachable? 
This week, pray through these questions. Ask God for the wisdom he promises to give, and ask that he'd open a door for relationship where wisdom could flourish.

Community
Discuss with your Home Church or friends this week the following questions: 1. In a healthy Church, there is a living library of wisdom that we can lean into. Who has been a source of wisdom for you, and how have you benefited? 2. Read James 3:13-18. How would you picture this kind of wisdom lived out in community? What are some of the marks of "wisdom from above" when it's lived out in the everyday stuff of life?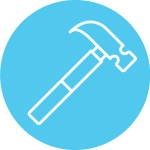 Co-Mission
No matter who you are, you've gained wisdom in your story through the trials and struggles you've faced – and someone needs that wisdom. This week, ask God for an opportunity to be a voice of wisdom to someone who needs encouragement. With humility, share how God has shaped your story for good.