Together, we gather to be present to the God who is already present to us.
However you are joining us, we encourage you to participate in the work of God today as He speaks and leads us. Wherever you are, God is already present and at work all around us. Let's join Him!
"I am the true vine, and my Father is the gardener. He cuts off every branch in me that bears no fruit, while every branch that does bear fruit he prunes so that it will be even more fruitful. You are already clean because of the word I have spoken to you. Remain in me, as I also remain in you. No branch can bear fruit by itself; it must remain in the vine. Neither can you bear fruit unless you remain in me. "I am the vine; you are the branches. If you remain in me and I in you, you will bear much fruit; apart from me you can do nothing. If you do not remain in me, you are like a branch that is thrown away and withers; such branches are picked up, thrown into the fire and burned. If you remain in me and my words remain in you, ask whatever you wish, and it will be done for you. This is to my Father's glory, that you bear much fruit, showing yourselves to be my disciples.
John 15:1-8 NIV
Spirit of God, lead us in every part of our lives.
Let every breath be filled with your goodness.
Let every word be filled with your love.
Let every deed be filled with your kindness.
Let every relationship have your faithfulness.
Let every decision have your peace.
Let every journey have your patience.
Let every confrontation have your self-control.
Let every thought have your gentleness.
Let every moment be flooded with your joy.
We trust that in all things, you are moving, God.
Open our ears to hear your voice speaking. Amen.
We seek to share a common way of life – a shared journey into the life of Jesus. We do so through 3 discipleship pathways: Communion, Community, and Co-Mission. Learn more at restorationlex.com/pathways!

Communion
Our limitations are a gift, not a hindrance. This week, prayerfully examine the places where you are exceeding limitations in unhealthy ways. Give God access to your schedule, your budget, your social calendar, your sleep schedule… all the places where you may be tempted to exceed healthy boundaries and limitations. What are some next steps you might take in honoring God through embracing your limitations?

Community
Discuss with your Home Church or friends this week the following questions: 1. Where do you feel the strain of exceeding your limits right now? Is it in your job? Your schedule? Your budget? Your physical life? Share where you feel challenged to have healthy boundaries.  2. In John 15 Jesus gives us the image of the Father as a gardener who prunes what hinders a fruitful life. Can you think of a season of your life that initially felt like loss… that gave way to greater fruit? How might God be pruning in your life now?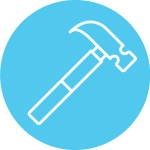 Co-Mission
Rest is an act of dependance on God, but often, we have to depend on others in order to find moments of rest and renewal. This week, find a way to help someone else rest. Speak a word of encouragement, watch someone's kids, or maybe even be generous and buy someone a nice meal. How can your service and generous help someone else find rest?