As a part of Love Your Neighborhood Weekend, we're encouraging our folks to join us for a guided downtown prayer walk for Lexington! In Jeremiah 29:7, God speaks this challenge to his people: Also, seek the peace and prosperity of the city to which I have carried you into exile. Pray to the Lord for it, because if it prospers, you too will prosper." 
With this is mind, we're setting out to pray for our city's peace and prosperity – that God's wholeness, justice, and love permeate every life within. Below you'll find a guide for your prayer walk to help you pray for our great city!
Downtown Lexington Guided Prayer Walk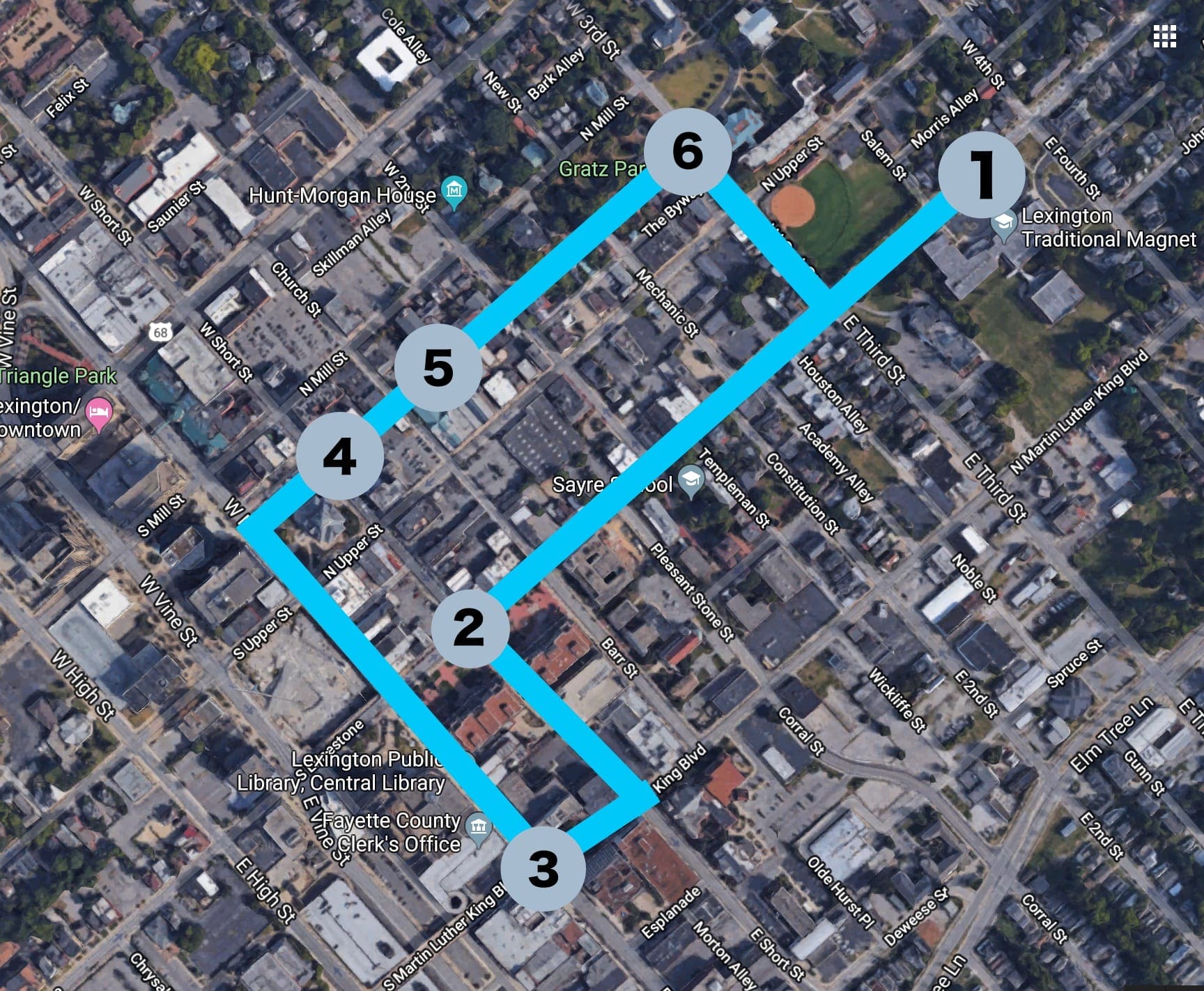 Stop # 1: Pray for our teachers and schools. (Lexington traditional magnet school).
There are almost 42,000 students enrolled in Fayette County Schools. Each day, teachers are charged to be a massive part of developing and growing students into the future of our country, and the task is certainly huge. The Bible describes children as a gift from the Lord, and Jesus goes out of his way to welcome and pray for them (Matthew 19:13). We should do the same! Spend a few moments praying for students and teachers in Fayette County.
Stop # 2: Pray for justice in our city. (Fayette County Courthouse)
In the Bible, justice is described as human being being in right relationship with one another, free from exploitation, oppression, inequality, and need. Isaiah 1:17 tells us to Learn to do right; seek justice. Defend the oppressed. Take up the cause of the fatherless; plead the case of the widow. As you stand outside the courthouse, pray that Lexington would become a more just city for everyone. Pray for those whose decisions impact families, institutions, and policy – that God is honored in all.
Stop # 3: Pray for our leaders. (Lexington City Hall)
I urge, then, first of all, that petitions, prayers, intercession and thanksgiving be made for all people— for kings and all those in authority, that we may live peaceful and quiet lives in all godliness and holiness (1 Tim. 2:1-2) We may not always agree with our leaders, whether locally or nationally, but the Bible commands us to pray for them in order that everyone will experience a life of peace under their leadership. Spend some time praying for our city leaders, that God's hand would guide them in building a safe and just city for everyone.
Stop # 4: Pray for Reconciliation. (Cheapside Park)
You may not know this, but you're standing on what was one of the central hubs of slave trade in the southern United States. Lexington has a dark history of slave trade, and the lingering stains from this period of our country's life still simmer in many corners of our city. As the Church, we are to be the bridge where unity and reconciliation is found between all races, united in Jesus and filled with love. Spend some time praying for racial healing and reconciliation in our city, not only in neighborhoods, but in our churches. Pray that walls of hostility would be supernaturally torn down! (Ephesians 2:14-18)
Stop # 5: Pray for the Church in Lexington. (Corner of Church Street and Market Street)
You are standing in view of two of the oldest churches in our city. There are tons of churches in Fayette County, but there's only one Church – God's Church. Pray for the Church in our city. Pray that God would bring unity in purpose and passion for the Gospel. Pray that His mission in our city would be clear and that we'd have the courage – together – to respond with faith, hope, and love.
Stop # 6: Pray for college students. (Gratz Park facing Transylvania University)
You're looking at one of the oldest colleges in the US – founded 2 years before Lexington was even a city. There are now over 31,000 college students in Lexington, representing students from all over the world. Take a moment and pray for these students who are living in some of the most formative years of their lives. Pray for God's wisdom and calling on their life. Pray that the Church would be a family to the many away from home, and that doors to hear the Gospel would be open for those who've never encountered Jesus.
Bonus Stop # 7: Coffee Shop Debrief. (Third Street Stuff Coffee House)
As you walked through the city and prayed, what were you sensing? Was there any emotion, feeling, and prompting you felt from God as you prayed?
Is there anything about our city you learned that you didn't know? Anything you saw that caught your eye and made you want to learn more?
Read Jeremiah 29:4-7. As we seek the peace and prosperity of our city, we receive the same in return. How might we seek the good of our city? How do you feel led to pray for Lexington after this experience?