This Week: 
Reflection Questions
Some distortions of the Christian faith have associated sadness and/or grief with a lack of faith. In your own spiritual journey, how free have you felt to lament – being fully honest with God about your pain, questions, doubts, and longings?
The word for comfort in Greek is "parakaleo," meaning "to come along side." When you look back on your moments of sorrow and grief, who has come along side you with presence, encouragement, and love? Share some examples.
We cannot heal what we are unwilling to grieve. What part might grief play in our healing – both personally and in our relationships with others?
Isaiah 53:3-5 describes Jesus as "the man of sorrows" who "bore our grief." How might the example and work of Jesus in the cross of Christ serve as a beacon of hope and an anchor in our times of sorrow and grief?
Community Practice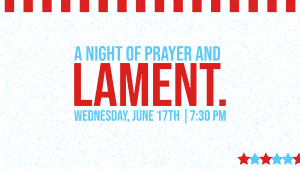 Practicing Lament. This week, we're doing something different. Next Wednesday, we're hosting A Night Of Prayer And Lament. To lament is to give honest voice to the grief, sorrow, questions and longings of your heart to God. During the difficult season in our country, we're coming to God with prayers of lament, written and shared with and in concert with our Restoration family. Join us Wednesday, June 17th at 7:30pm! Sign up below, and we'll send you the link. Learn how to write a prayer of lament here and RSVP for the Night of Prayer And Lament here!
Other Resources For Growth
You Version Bible App – online Bible and tons of reading plans
The Bible Project – videos, podcasts, and resources that help you understand and study the Bible
Daily Prayer App – a resource to guide your daily Scripture and prayer
Storied Narrative Lectionary – videos designed to help immerse you in the big story of the Bible
Prayer Course – an amazing free resource that helps you learn what prayer is – and how to do it